Softerra LDAP Administrator 2008.1 - What's New?
Softerra LDAP Administrator 2008.1 includes nearly five dozen new features, improvements and user interface refinements, many of which are based on the community feedbacks from previous versions.
Softerra LDAP Administrator 2008.1 is built on top of a new application platform that has been under development for the past couple of years. The new platform provides improved performance, stability and scalability resulting in better experience to offer to those involved in LDAP directories development, deployment and administration.
Below are the highlights of the major feature additions and changes in Softerra LDAP Administrator 2008.1 from the previous version, Softerra LDAP Administrator 3.x.
---
User Interface Style Refresh
Softerra LDAP Administrator 2008.1 user interface has been refreshed - now it has friendly-looking icons, an improved color palette, neat menus and more flexible customization options. Some toolbars and context menus have been reorganized to make the user interface more intuitive. Besides, the user interface has become sensitive to the current LDAP server, which allows showing only those commands that can be applied to this server type.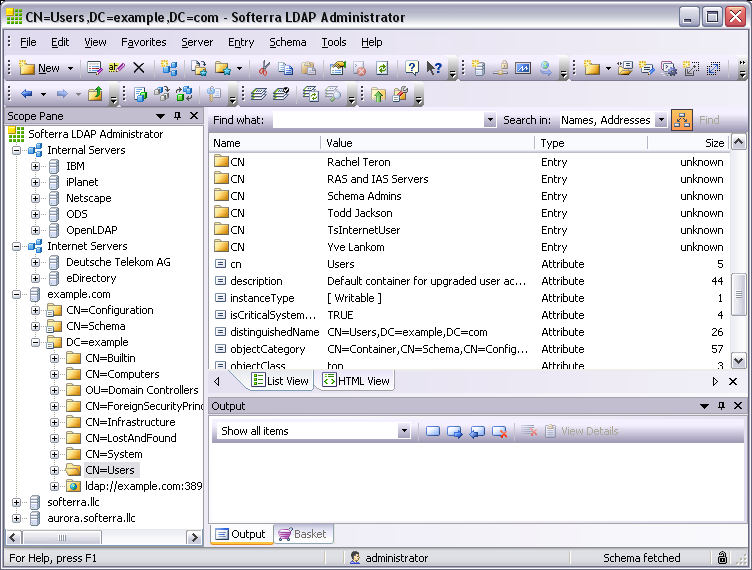 Modeless and Dockable Dialogs
This is one of the most awaited features - all major dialogs, frequently used windows and all property pages are now modeless, which allows working with the application without having to close them. This is extremely beneficial when working with Directory Search or Schema Viewer.
In addition to the modelessness, Directory Search, Schema Viewer and Groups and Members dialogs are dockable, which significantly facilitates working with them in particular and the application in general. Docking windows can be useful for personalizing the application layout or arranging multiple open windows into logical groups.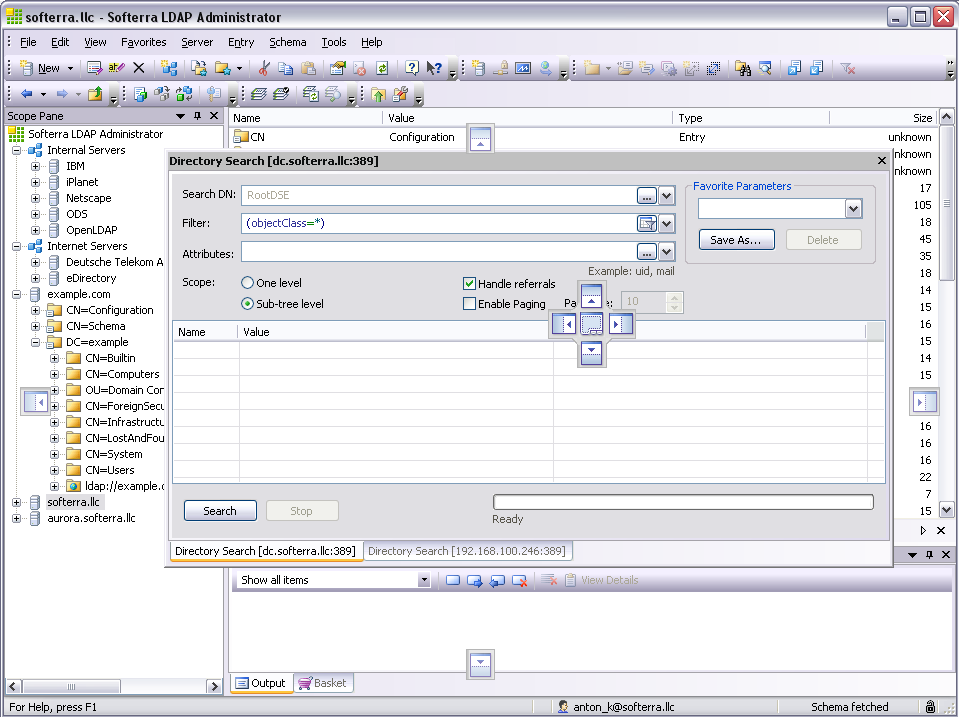 Basket
This is an absolutely new and unique feature designed to allow batch modification of multiple LDAP entries from different locations, including different LDAP servers. Basket is a virtual container that can be populated with LDAP entries by using drag-and-drop or Add to Basket command from any place in Softerra LDAP Administrator user interface.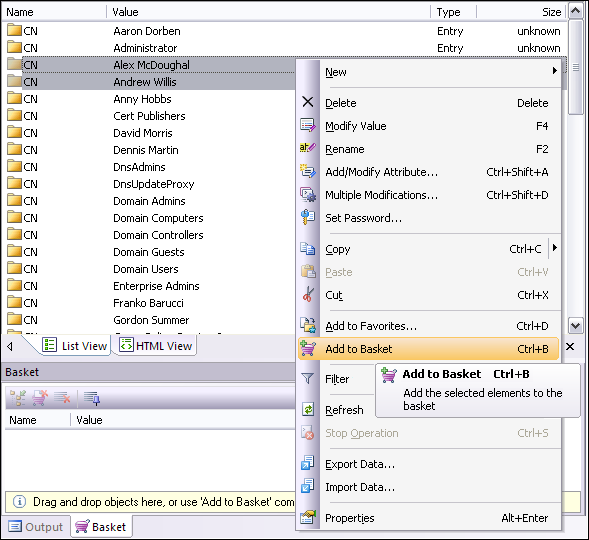 When Basket is populated with LDAP entries, different operations like Export Data, Multiple Modification, Delete, etc. can be executed on each of them like if they were located in a single real container.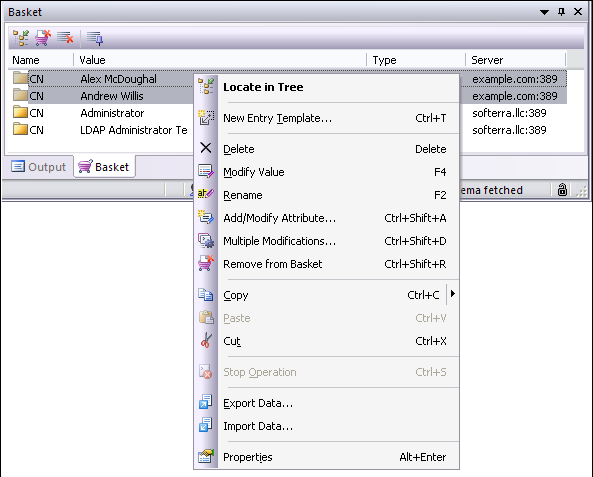 Directory Search Enhancements
The Directory Search dialog has been significantly changed and now offers the following new features:
The dialog is now modeless and can be docked to any area of the application.
Several instances of the dialog can be opened, one instance for each LDAP server you work with.
Any operation like Export Data, Multiple Modification, Delete, etc. can be performed directly on your search result.
The selection of search attributes became more effortless, the edit box of search attributes includes intellisense, drag-and-drop and embedded button, which provides an easy way of adding attributes defined by the LDAP schema.
You are allowed to specify additional search attributes after a search is complete.
Search results filter.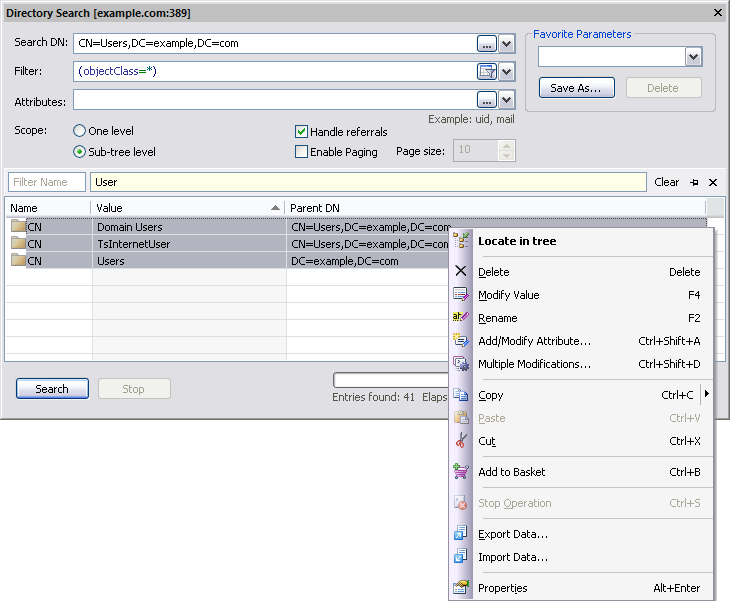 Improved DN Editor
Now you can benefit from Browse button embedded into every edit box used for editing LDAP Distinguished Names (DNs). The button launches a dialog which allows choosing DNs by visually navigating through a directory tree instead of typing it manually.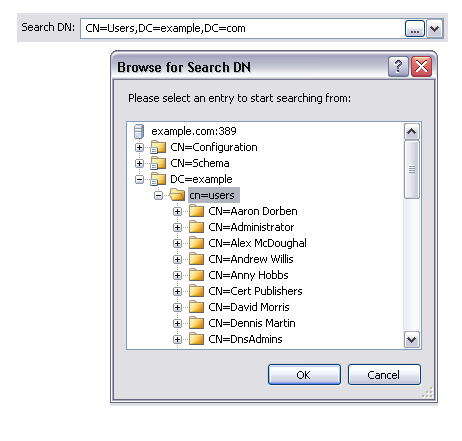 List View Improvements
Custom columns: Sometimes you may need to display additional LDAP attributes in the List View along with the default LDAP entry information like name and size. Now you can add extra columns containing attribute values that you need.
Filter Bar: When an LDAP entry contains many attributes, the Filter Bar allows to quickly locate or filter out a particular attribute or/and attribute values. Wildcards '*' and '?' are supported.

Multiple Modifications
The brand-new Multiple Modification Wizard allows applying one or more modifications at once to a collection of LDAP entries from single or multiple sources including entries from different LDAP servers. Multiple modifications can be applied to a directory tree branch, List View or Basket contents and Directory Search result providing ultimate flexibility of directory data modification.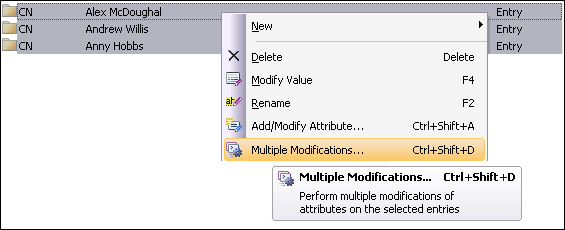 In addition, the Multiple Modification Wizard has been enriched with the power of attribute value references which are very useful when you need an attribute value to be generated from existing attribute values.
Attribute Creation Wizard Enhancements
The Attribute Modification Wizard has been greatly enhanced. Now it allows adding new or modifying existing attributes of several selected LDAP entries. While performing such updates, you can also use attribute value references.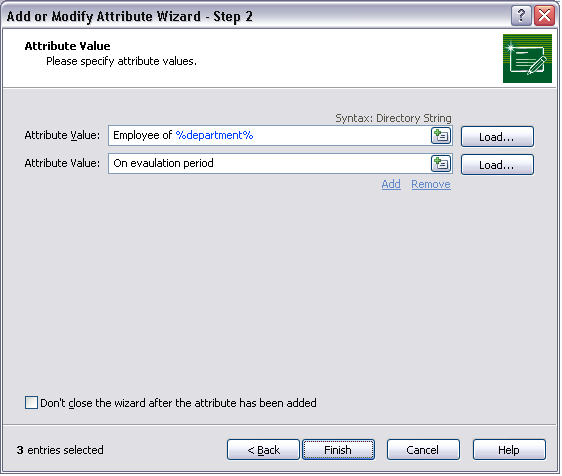 Attribute Value References
Attribute value references are helpful if you need some attribute values to include values of other attributes when creating or modifying entries. This new handy feature allows you to use value references when creating LDAP entries based on entry templates or when modifying them with the help of the Add or Modify Attribute and Multiple Modifications wizards.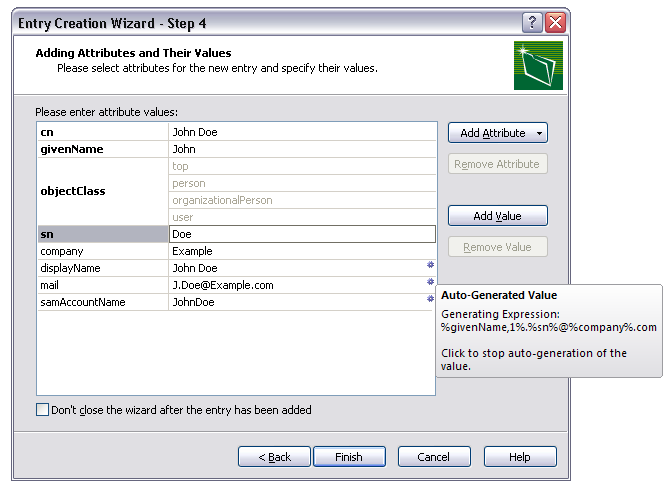 You can insert a value reference either by entering it manually or with the help of the Insert Value Reference wizard.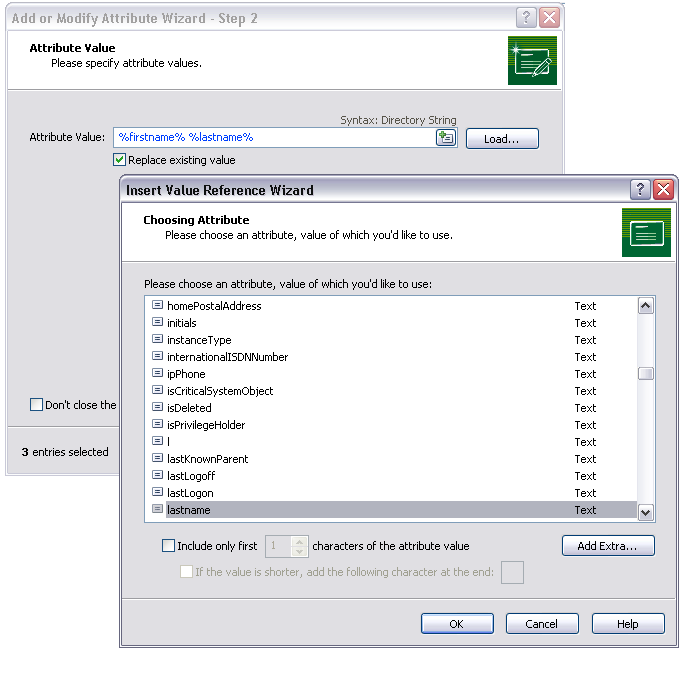 Advanced Copy
You can copy LDAP entries to the clipboard as DNs, LDAP URLs, LDIF or DSML documents just with a single mouse click on the Advanced Copy button.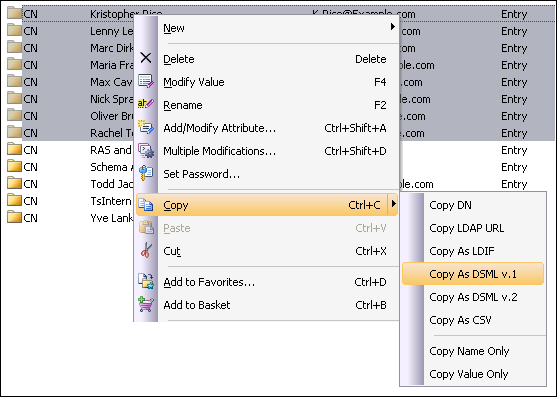 Active Directory Partitions Management
A new powerful feature has been developed providing an easy way to create, delete or manage replication of Active Directory or ADAM application partitions.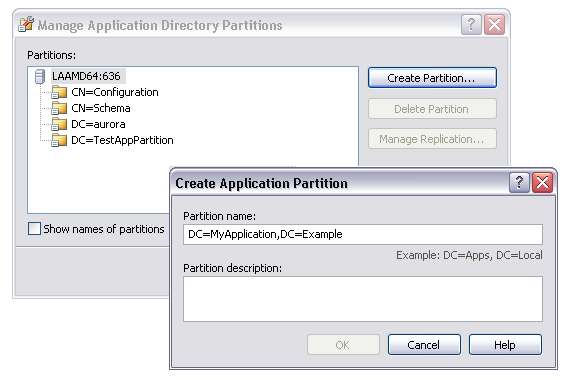 Miscellaneous
Modern LDAP server support: Various compatibility issues have been addressed to support modern LDAP servers like Sun OpenDS, Apache Directory Server, Novell eDirectory 8.8, OpenLDAP 2.4 and Active Directory 2008.
Windows Vista support: Windows Vista and Windows Server 2008 experience has been significantly improved.
64-bit Version: If you work with a 64-bit operation system, you can fully reveal its power by using the 64-bit version of Softerra LDAP Administrator.
Persistent Settings: From now on, all LDAP entries and referral settings like filter, displayed attributes, paging policy, etc. are persistent and remain unchanged after the application restart.
Load/Save Configuration: Now it is possible to save and load all the application configuration settings to/from a file. This feature allows to backup/restore application settings or to transfer them to another machine.
Kerberos Based Data Encryption: Active Directory users can use LDAP traffic encryption without having to use SSL.
---
© Softerra 2021. All rights reserved.