Softerra LDAP Administrator 2013.1 - What's New?
Table of Contents
Softerra LDAP Administrator 2013.1 is a major release that offers several new features, improvements and user interface refinements.
Below are the highlights of the major additions and changes in Softerra LDAP Administrator 2013.1 from the previous version.
---
IPv6 Support
Since Internet Protocol Version 6 (IPv6) becomes more and more popular nowadays, we have added IPv6 support to LDAP Administrator. Now you can use LDAP Administrator both in IPv4 and IPv6 networks simultaneously without any issues.
Displaying Empty Attributes
From now on, following multiple requests from our customers, LDAP Administrator can be configured to display empty attributes in the List View. This will allow you to quickly add an attribute to an LDAP entry.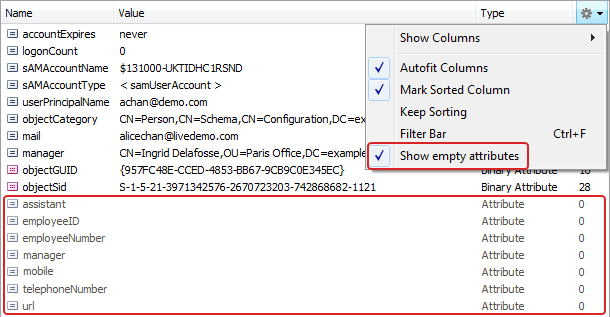 ---
LDIF Editor Enhancements
At request of many users, we have improved LDIF Editor by adding a number of important features listed below.
---
LDIF Editor Bookmarks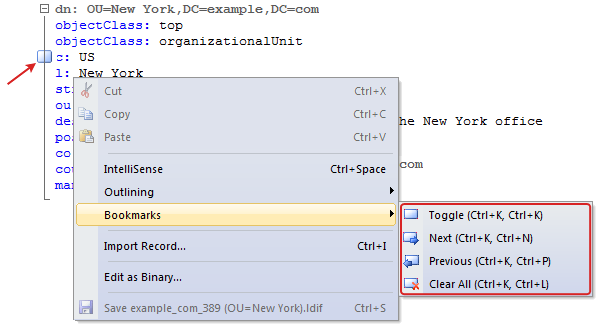 In the new version of LDAP Administrator, you can use Bookmarks to mark lines in LDIF Editor, so that you can quickly navigate to a specific location and jump back or forth between locations. The bookmarks are bound to a specific file, so you can use them any time you open this file in LDIF Editor.
---
Undo/Redo History
From now, LDAP Administrator stores the undo/redo history of LDIF files. It means if you open a file next time in LDIF Editor, you will be able to perform undo/redo operations that were done previously.
---
Restoring File State
Now, LDAP Administrator maintains the state of outlining as well as scroll and cursor positions of a file opened in LDIF Editor. It means, that next time you open the same file in LDIF Editor, the cursor position, scroll position and outlining will be the same, as they were last time.
---
Persistent Dialogs
Starting from this version, LDAP Administrator automatically saves/restores the position and sizes of all modeless dialogs, such as Directory Search, Group and Members, Schema Viewer, LDAP-SQL Query, Reports etc, even if they are docked. So, next time you open a dialog, it will be placed at the same position where it was closed last time.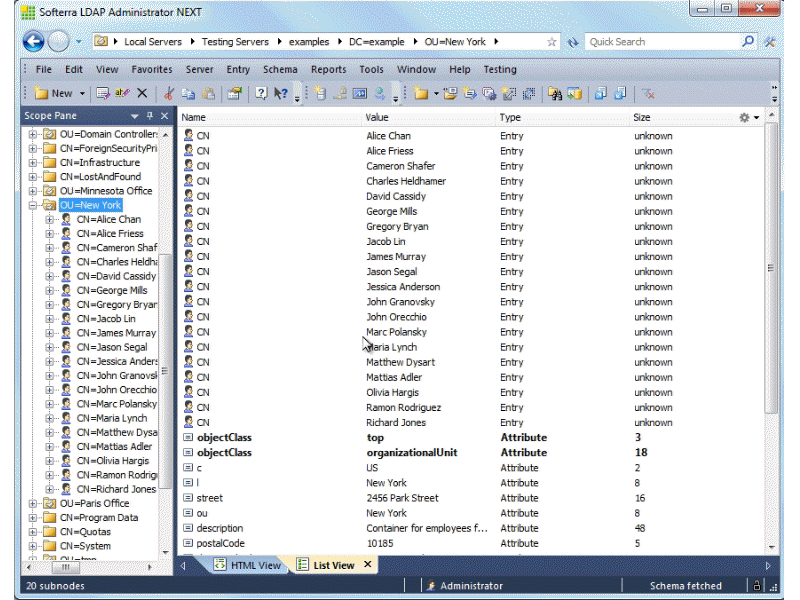 ---
Command Line Builder for Import/Export
Writing an import or export command line can be a time-consuming operation due to an extensive list of parameters that control the import/export operation. Now LDAP Administrator allows you to construct a command line for the laimex.exe tool using the Import/Export Data Wizard. All you need to do is set all the desired parameters using the wizard and press the Build Command Line button.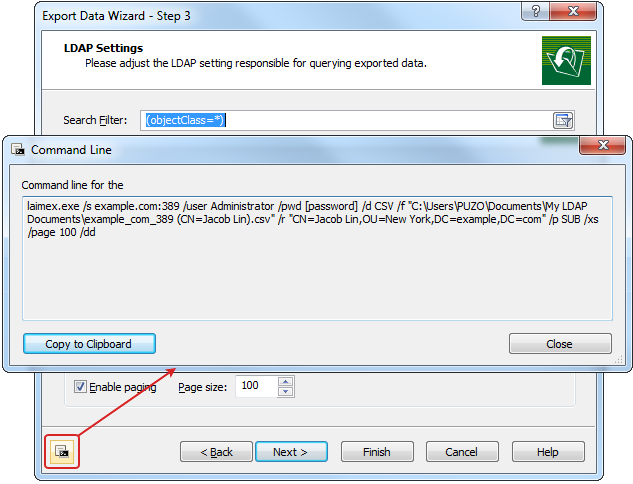 ---
User Interface Improvements
We're always looking for ways to make your work with LDAP Administrator easier and more efficient. One way to do it is to create modern and streamlined user interface.
---
New Favorites Button

The Favorites button has been moved to the Navigation Bar, the place where you expect to find it.
---
List View Settings Button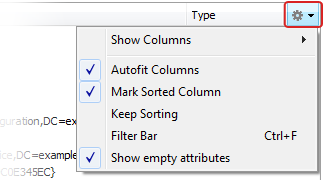 The new List View settings button allows you to adjust the List View display settings: select columns to display, enable/disable automatic sorting, show/hide filter bar, etc.
---
Other Improvements
We are always committed to make our application more stable, bug free and responsive. Since the last release we have implemented a lot of enhancements and bugfixes which are not visible at first glance, however they make the use of LDAP Administrator more stable and enjoyable than ever.
---
© Softerra 2020. All rights reserved.