Softerra LDAP Administrator 2015.1 - What's New?
Table of Contents
In LDAP Administrator 2015.1, we further enhanced restoring of deleted Active Directory objects and added support for Active Directory Recycle Bin. We also added the possibility to use the uid attribute in POSIX group membership and provided a mechanism to quickly navigate using List View.
---
Enhanced Object Restore
Softerra LDAP Administrator 2015.1 brings new powerful features for handling deleted Active Directory objects, such as restoring objects in bulk, preserving directory hierarchy when restoring objects, undo for the delete operation, and support for Active Directory Recycle Bin. This release comes with a completely new and redesigned Restore Deleted Objects dialog that provides many new features to make searching for deleted objects easier.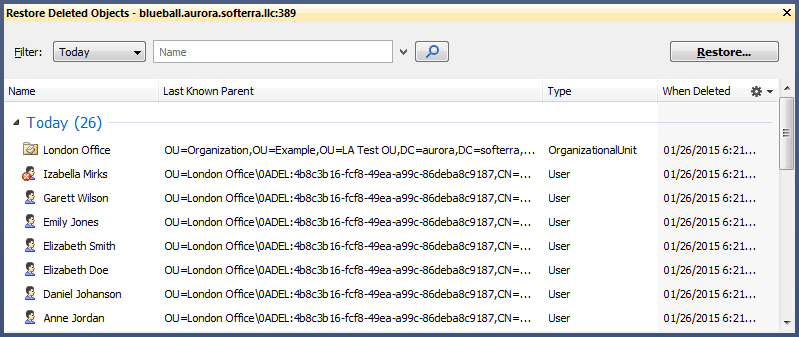 ---
Active Directory Recycle Bin Support

Now, LDAP Administrator supports restoring objects from the Active Directory Recycle Bin.

---

Flexible Search of Deleted Objects

With new search options available in this release, now you can find deleted objects using simple name search, an LDAP filter or by providing and approximate time frame when an object was deleted.

---

Bulk Restore

From now, using Restore Deleted Objects dialog you can restore deleted objects in bulk.

---

Restoring Objects with Children

With the new version, when restoring objects, you can also restore their deleted ancestors and/or descendants to preserve the original hierarchy without the need to restore the objects one-by-one.

---

Undo Delete

If you accidentally deleted something important using LDAP Administrator, you can undo everything in just one click.

---

uid Support for posixGroup Membership

Following multiple requests by our clients, we've made it possible to specify members of POSIX groups by their uid attribute instead of distinguished name.

---

Quick Jump to Entry

Now, you can quickly jump from a DN attribute to the corresponding LDAP entry simply by clicking on it.

---

Bug Fixes and Improvements
This release also includes important bug fixes, stability improvements and performance enhancements.
---
---
© Softerra 2021. All rights reserved.