Softerra LDAP Browser
Softerra LDAP Browser is the industry-leading software for browsing and analyzing LDAP directories. It provides a wide variety of features for handy viewing of directory contents, getting information about directory infrastructure and objects.
Right after the very first release Softerra LDAP Browser has become a real breakthrough in IT market thanks to its simplicity and power in equal measures. The software holds highest positions for 10 years already. Some of its features are unique - to date there is anything to match their efficiency in the existing LDAP software packages.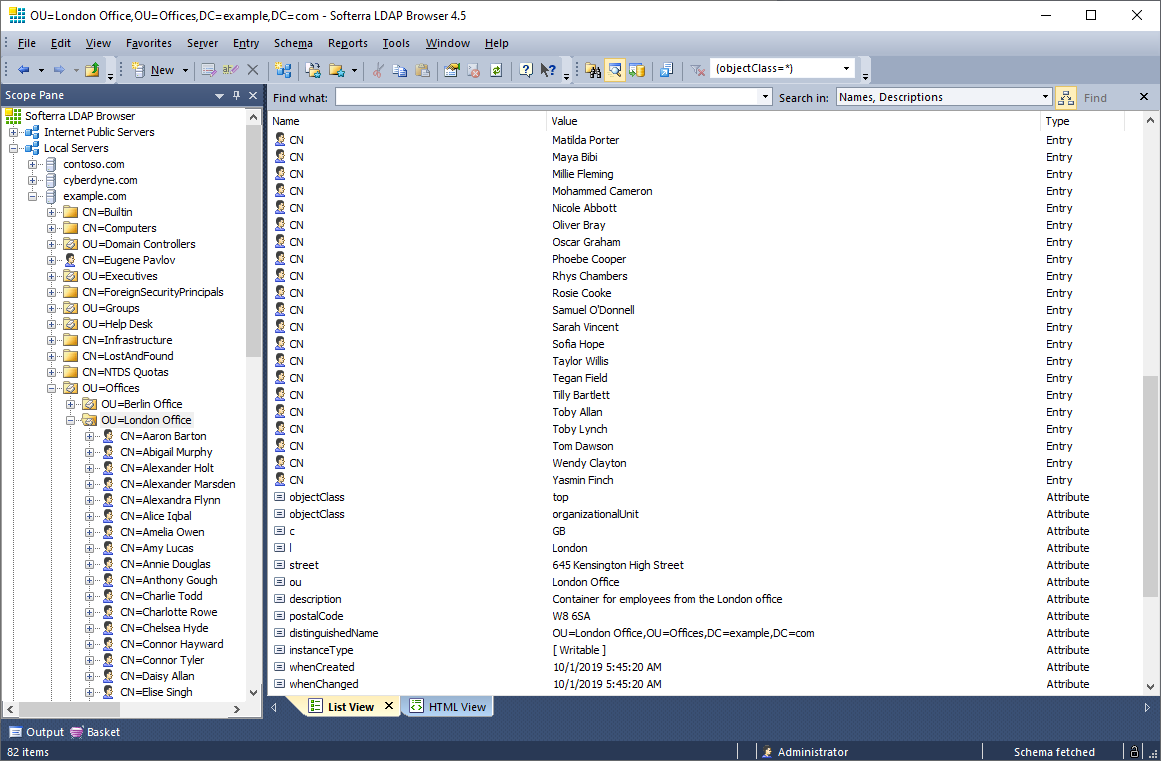 Apart from other capabilities provided by Softerra LDAP Browser, you may take advantage of the following functionality:
advanced directory browsing
comprehensive directory search
customizable directory reports
LDAP SQL queries
data export (LDIF, DSML v.1, DSML v.2, MS Excel, CSV, Plain Text, HTML)
customizable HTML views
LDAP schema viewer
SASL and SSL authentication
and much more
Softerra LDAP Browser is capable of working with any LDAP server available at present including, but not limited to the following most popular ones:
Microsoft Active Directory
Microsoft Exchange 5.5
AD LDS
OpenLDAP
Apache Directory Server
Novell eDirectory
Sun Directory Server
IBM Directory Server (Tivoli, Secure Way, etc.)
Google Cloud Identity
G Suite
Fedora / Red Hat Directory Server
Oracle Internet Directory
Sun OpenDS
iPlanet Directory Server
Netscape Directory Server
Siemens DirX
ISODE M-Vault
OctetString VDE
UnboundID
Lotus Domino
Softerra LDAP Browser is absolutely free for any kinds of use including commercial. The latest version of Softerra LDAP Browser is available for immediate download in our Download Section.